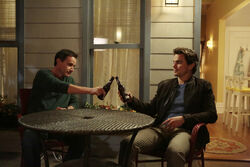 Whack-A-Mole
Previous Episode
Next Episode
Whack-A-Mole is the 5th episode of Season 6 of the series and the 80th produced episode.
Synopsis
[
]
While tiptoeing through a mole-hunt, Neal is tasked to orchestrate a treacherous operation for the Pink Panthers on very short notice. Meanwhile, Peter is hard-pressed to balance his family life amid the fallout of a colleague's murder.
Cast
[
]
For Starring Cast, see Season 6#Credits.
Guest Starring
[
]
Co-Starring
[
]
Evas Younis as Aubrey
Jennifer Cortese as Chloe
Molly McDowell as Ivana
Jakob Von Eichel as Mike