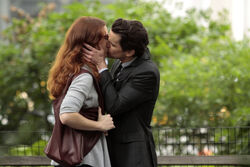 Shot Through the Heart
Previous Episode
Next Episode
Shot Through the Heart is the 11th episode of Season 5 of the series and the 73rd produced episode.
Synopsis
[
]
When Neal and Peter go after an assassin, the stakes are raised even higher when they realize this may be the same person who has been pulling Neal's strings.
Cast
[
]
For Starring Cast, see Season 5#Credits.
Guest Starring
[
]
Co-Starring
[
]
Trivia
[
]
The title is taken from a classic Bon Jovi track off the album "Slippery When Wet", a song whose next lines are "and you're to blame, Darling, you give love a bad name," which foreshadows the episode's revelations.