Season 6

Aired
November 6, 2014 - December 18, 2014
Slogan
The final con is on
Season 6 of White Collar was officially announced by USA Network on March 21, 2014. Season 6 premiered Thursday, November 6, 2014.
The thrilling final season picks up on last season's cliffhanger, when Caffrey has disappeared, sans ankle bracelet. Personal transitions and returning enemies complicate things when Caffrey and Agent Burke are pitted against the most sought-after network of criminals in the world, the Pink Panthers.
With the help of Mozzie (Garson) and FBI agents, Barrigan and Jones, they will attempt to infiltrate and bring down the infamous criminal ring. Guest stars for the final bow include Ross McCall, Gavin Lee, Bridget Regan, Toby Leonard Moore, Paloma Guzman, Michael Potts, Isaach de Bankole and Diahann Carroll.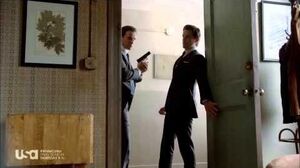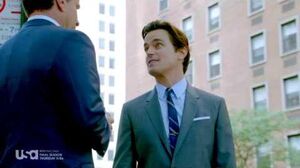 #
Image
Title
Airdate
Viewers (millions)
6x01 76
Borrowed Time
November 6, 2014
1.54
In an attempt to secure his freedom once and for all, Neal convinces Peter to strike an ironclad deal with the FBI brass. But first, he must gain access to a the leader of an international crime syndicate known as the Pink Panthers. Meanwhile, El is confronted with startling news about her future with Peter.
6x02 77
Return to Sender
November 13, 2014
1.36
The FBI agrees to grant Neal his freedom if he can bring down the Pink Panthers once and for all.
6x03 78
Uncontrolled Variables
November 20, 2014
1.38
Running a con for the Pink Panthers, Neal finds himself conflicted scamming an innocent mark. Meanwhile, Peter finds himself working with a reckless Interpol agent who could put their entire operation in jeopardy.
6x04 79
All's Fair
December 4, 2014
1.59
With the Pink Panthers having gone silent, Peter and Neal focus on a case dealing with someone from Mozzie's past, who's returned to tie up loose ends and pull another con, this one at Mozzie's expense.
6x05 80
Whack-A-Mole
December 11, 2014
1.57
While tiptoeing through a mole-hunt, Neal is tasked to orchestrate a treacherous operation for the Pink Panthers on very short notice. Meanwhile, Peter is hard-pressed to balance his family life amid the fallout of a colleague's murder.
6x06 81
Au Revoir
December 18, 2014
1.86
In order to help Neal carry out a risky heist, Peter must involve himself in a dangerous con against the Pink Panthers, putting El at unease with their new baby on the way. Meanwhile, Neal designs a new plan that will serve the interest of the Pink Panthers – and himself.
For airdates for the United States and other countries, see Airdates.
Network: USA Network
Guest-starring: Diahann Carroll
Created and executive produced by: Jeff Eastin
Co-executive producer: Jeff King
Co-executive producer: Clifton Campbell
Consulting producer: Tom Garrigus
Supervising producers: Joan Binder Weiss
Producer: Margo Myers
Story editor: Travis Romero
Executive story editor: Rashad Raisani
Staff writers: Jim Campolongo, Joe Henderson & Joseph C. Muscat
Technical consultant: Tom Barden
Series casting by: Julie Tucker, Ross Meyerson
Production designer: Lester Cohen
Director of photography: Russell Fine
Edited by: Russell Denove, Tammis Chandler Biraben & Doug Hannah
Costume designer: Stephanie Maslansky
Origination: New York, New York
Produced by: Fox Television Studios
Community content is available under
CC-BY-SA
unless otherwise noted.