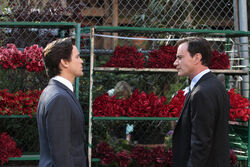 No Good Deed
Previous Episode
Next Episode
No Good Deed is the 9th episode of Season 5 of the series and the 71st produced episode.
Synopsis
[
]
Peter's thrown back into an unsolved larceny case that has Neal worried – because Neal's the one who committed the crime.
Cast
[
]
For Starring Cast, see Season 5#Credits.
Guest Starring
[
]
Co-Starring
[
]
Chapel of St. George, 4 Rutherford Place, New York, NY