| | |
| --- | --- |
| | Where's the little guy? This article is a stub. Please help White Collar Wiki by expanding it, adding pictures, and improving existing text. Please remove this template once cleanup is complete. |
Neal Caffrey
has a penchant for style which can be seen most eloquently in his wardrobe. When he moves in with
June
after his release from prison, he inherits a closet full of couture that becomes his signature look.
The show's costume designer Stephanie Maslansky openly discusses the makings of Neal Caffrey's wardrobe on White Collar's official website. She says his look is 'mid-century gone modern' with suits by designers John Varvatos and Paul Smith (but let's not forget about his vintage Sy Devore suit from the very first episode). His tie bars are vintage, and his ties are also almost always vintage and bought at Manhattan's Star Struck and Cheap Jack's.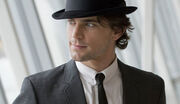 One of the things Neal is known for is his classic black fedora. It completes his Rat Pack look, though Peter mocks him as "looking like a cartoon."  Peter calls him "Dino," a nickname for the singer/actor/Rat Pack member Dean Martin. Neal also has lots of different hats to match with different suits and accesories that he wears.
Tracking Anklet
Edit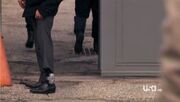 Perhaps Neal's least fashionable accessory is the tracking anklet he is required to wear as a condition of his release into Peter's custody. The bracelet is attached to his left leg and is set to allow him to travel in a two-mile radius from the hotel Peter originally chooses for him to live in. Peter has the ability to view Neal's movements and he is notified if Neal moves beyond the set radius. Mozzie tells Neal the bracelet is impossible to hack, but on more than one occasion throughout the first season Neal either cuts the bracelet or intentionally moves outside the two-mile radius in order to send messages to Peter about his location or intentions.
On some undercover assignments, the tracker must be removed or turned off so the person Neal is helping to arrest is not suspicious of Neal's intentions.
Neal has nicknamed it Candy. Candy has been replaced in the Second season, with a more advanced anklet, that Peter claims to be proven to "chafe less".
External Links
Edit
Community content is available under
CC-BY-SA
unless otherwise noted.