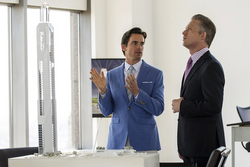 Brass Tacks
Previous Episode
Next Episode
Brass Tacks is the 12th episode of Season 4 of the series and the 58th produced episode.
Synopsis
[
]
Peter and Neal begin their investigation into Senator Pratt's involvement with a ring of corrupt cops who framed Neal's father and tore his family apart. They soon find a connection between the Senator and a crooked real estate developer who is running a kickback scheme.
Plot
[
]
Neal and Peter discover that Dennis Flynn's fatal prisoner transfer was ordered by U.S. Senator Terrence Pratt (Titus Welliver) who was once James' Captain in the Washington police. They plan to bring him down by proving fraud charges against his associate, land developer Cole Edwards (Reed Diamond). But Edwards remains loyal to the Senator, who retaliates by ending the FBI career of Peter's boss. Meanwhile Mozzie is paired up with Jones to search for the meaning of a key left to Neal in Ellen's personal effects. Elizabeth asks Neal to lie to Peter about the key to protect him after an attempted assassination, but Peter learns the truth from Jones and, greatly offended, continues to investigate on his own.
Cast
[
]
For Starring Cast, see Season 4#Credits.
Guest Starring
[
]
Co-Starring
[
]
Courtney Reed as Kyle Bingham
Doug Willen as Lawyer
Videos
[
]