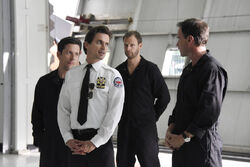 Au Revoir
Previous Episode
Next Episode
Series Finale
Au Revoir is the 6th episode of Season 6 of the series, the 81st produced episode and the Series Finale.
Synopsis
[
]
In order to help Neal carry out a risky heist, Peter must involve himself in a dangerous con against the Pink Panthers, putting El at unease with their new baby on the way. Meanwhile, Neal designs a new plan that will serve the interest of the Pink Panthers – and himself.
Cast
[
]
For Starring Cast, see Season 6#Credits.
Guest Starring
[
]
Gavin Lee

as Alan Woodford

Peter Bradbury

as

Benson

Dave Thomas as Wendy's fry cook
Special Guest Star
[
]
Co-Starring
[
]
Jakob Von Eichel as Mike
Jennifer Cortese as Chloe
Kristin Muri as Stewardess
Rob DeRosa as Homeless Man
Steven Ted Beckler as Medical Examiner
Cory Fernandez as Medical Examiner Assistant
Final scene shot near Wall Street in NYC, not Paris.