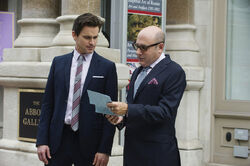 All's Fair
Previous Episode
Next Episode
All's Fair is the 4th episode of Season 6 of the series and the 79th produced episode.
Synopsis
[
]
With the Pink Panthers having gone silent, Peter and Neal focus on a case dealing with someone from Mozzie's past, who's returned to tie up loose ends and pull another con, this one at Mozzie's expense.
Cast
[
]
For Starring Cast, see Season 6#Credits.
Guest Starring
[
]
Co-Starring
[
]
Kenya Brome as Assistant
Jason Grasl as Guard
Suzanne Johnson as Patron